The huge change in consumer shopping habits over the past 12 weeks, has unquestionably accelerated the Direct to Consumers (D2C) investment strategies for many of the world's consumer brands. For brands, where loyalty, trust and advocacy have been built up over many years, the future is looking bright. These heritage brands can leverage years of goodwill and provide security to their loyal audience in a period of monumental change.
The traditional shopping experience for many, with long queues stretching around car parks and necessary social distancing rules, has understandably reduced supermarket visits. As a result, web enabled purchases have sharply risen, as online shopping provides safety, simplicity, and speed.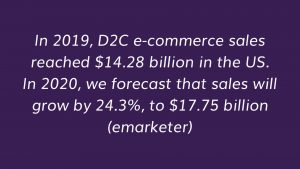 The opportunity for food and drink manufacturers, in particular, to maximise the D2C trends are significant. There are a variety of tactics currently being deployed by both large and smaller brands to realise their D2C ambitions and provide their customers with choice. Here are 4 that we believe are transforming FMCG brands and their evolving relationship with the consumer.
1. Significant investment in e-commerce technology, as the purchase of on-line groceries becomes a long-term alternative to instore shopping. Companies like Nestle, Unilever and Heinz are reaching out directly to their customer base and are encouraging consumers to shop direct. As a result, Heinz built and launched their first ever D2C shop, "Heinz to Home" in less than a month.
2. An uplift in digital marketing spend to enable greater visibility, awareness and ultimately traffic for the many D2C e-commerce platforms being developed.
"E-commerce grocery sales have rocketed. For example, in the US we've seen our e-commerce sales doubling and, as a total company, e-commerce sales increased by 36% in the first quarter. This change to online shopping and online media consumption is another factor that we think is going to have a lasting impact, as we saw with SARS and the swine flu epidemics, which really were points of inflection for the consumption of digital media and online shopping in China".
Alan Jope, Unilever CEO (diginomica.com)
3. Access to rich customer data. The D2C e-commerce websites provide brands with direct access to consumer data. A world often protected by retail POS systems and often inaccessible, has, overnight, been made available. FMCG brands can now better understand buying habits, customer experience and how best to improve their products.
4. Direct engagement with consumers through doorstep delivery. This completes the supply chain and provides consumers with a complete end-to-end buying experience, all managed by the brands themselves. An example of this is PepsiCo, who launched PantryShop.com and Snacks.com so their customers could purchase directly and provide doorstop delivery. This proposition is reinforced on their website, which say; "Delivering favourite snacks & beverages straight to your door".
Author: Anil Noorani
If you'd like to know how We Are Amnet have helped brands with their "Direct To Consumer" initiatives or want to discuss a project, please contact us at hello@weareamnet.com